Celebrating St. Patrick's Day down south has always been a big holiday for Canadians, even if it tends to be a somewhat one-sided view of Irish culture. People wear green shirts and head out to the pubs to start drinking green beer early in the day. The festivities often turn into one long day of bar hopping, going from Irish pub to Irish pub.
Doing that in an Arctic community is a little trickier, if not mainly due to the lack of pubs. The grocery stores don't even sell St. Patrick's Day decorations. We tend to learn to make do in the North though. Our group of friends put together an excellently coordinated St Patrick's Day "pub crawl" that involved us moving from house to house on a strictly timed schedule to celebrate at different venues. We decided to do this on a Saturday, so we could thoroughly enjoy ourselves and have a day to rest before people had to start their week.
But first, we had to figure out the decorations. The other houses had planned ahead and ordered St Patrick's day decorations ahead of time. Our house did not, so we had to go around the house looking for green things that I could cut up and turn into party decorations.
Rob and I looked up Irish cuisine, and he ended up baking delicious potato bread served with corned beef. Besides slave labour cookies, I briefly considered making a cabbage dish which the Internet promised was a traditional Irish dish, but was stunned at the 500 calorie per serving count that the predominantly vegetable side dish had. Wow.
I asked my friend about her Irish roots. Turns out her family's from Northern Ireland and they don't celebrate St. Patrick's Day. Instead, she told me Northern Ireland does the Orange Day parades, which she explained involved Protestants marching through Catholic communities and throwing oranges at the Catholic homes. I didn't think it was a good idea to do that in Cambridge Bay.
There was a snow storm on the day of our pub crawl. A relatively minor snow storm for the Arctic, as it wasn't too cold and the wind wasn't too strong, but the snow was piling up in troublesome drifts on the road that made it difficult to trek through. But we the north don't let such trivialities stop us from living our life.
Our friends hosting the first pub stop are a friendly couple from Newfoundland, and it was really interesting to spend St. Patrick's Day with Newfoundlanders who have their own special relationship with Ireland. While we ate brunch, they showed photos from their trip to Ireland, and as they drank their beer, their Newfoundland dialects grew stronger, and eventually once a good traditional tune came on, they were all dancing. Because, as we know, Newfoundlanders, like the Irish, love to dance. The owners' two big dogs also danced along with us, although maybe they were just trying to get at the bacon.
We all arrived in one piece at Pub Stop #2, where three big dogs and a yummy bowl of caribou muskox stew ("cari-musk" stew?) awaited us, with a side of bannock and green jello. Despite the fact that we had just finished eating brunch, we dug right in.
This house was in an end of town near the tundra where the snow piles up pretty high, as was evidenced in their windows:
Afterwards we hiked over to Pub Stop #3, where they had just pulled a homemade pizza out of the oven. There was also more green jello. We continued to consume.
Like all the previous stops, there was also a dog at this house. A big, ferocious dog...
Pub Stop #4 featured another delicious spread of snacks, including green jello, as well as a gorgeous view of the tundra. There was also another hungry dog.
Pub Stop #5 was our house, recently adorned with DIY St Patrick's Day decorations.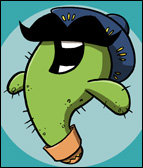 McPredro is a talking cactus with an Irish accent
We did not serve green jello. Instead, we served red jello. We did not have a dog.
I did not get any photos of the final Pub Stop #6 because it was late by that point and we had been eating and partying for ten or eleven hours. We didn't stop partying or eating of course, and the dance floor continued. There was more dogs, and I don't remember if there was more green jello, but I am sure we have had our year's quota of green jello by this point.
Some people criticize St Patrick's Day as being a crude form of cultural appropriation; a holiday that takes a very rich culture and reduces it to a caricature of drinking green beer. I like to take it as an opportunity to celebrate and learn about a new culture, hearing my Irish-Canadian friends talk about what being Irish means to them, try new foods and learn a bit more about the history. Most importantly, though, I really liked having a chance to spend some time eating and socializing with my group of friends. The benefits of being in an isolated community means you can plan complicated day-long events like this. I'm not sure if we could get something going like this with friends down south. In the city, people will always have other plans, other friends, other distractions, and they may be too non-committal to coordinate. But here, we band together against the wild weather and take the time to enjoy ourselves.